Looking for a new aesthetician? Whether you're looking for someone to help with your skin care routine or want to try a new beauty treatment, it's important to find the best aesthetician in your area. There are many different types of aestheticians, so it can be tough to know what to look for. In this blog post, we will define the different types of aestheticians and provide tips on how to find one that is right for you.
So, what is an aesthetician?
An aesthetician is a professional who provides beauty treatments such as facials, massages, and waxing. There are many different types of aestheticians, including:
Skin Care Specialists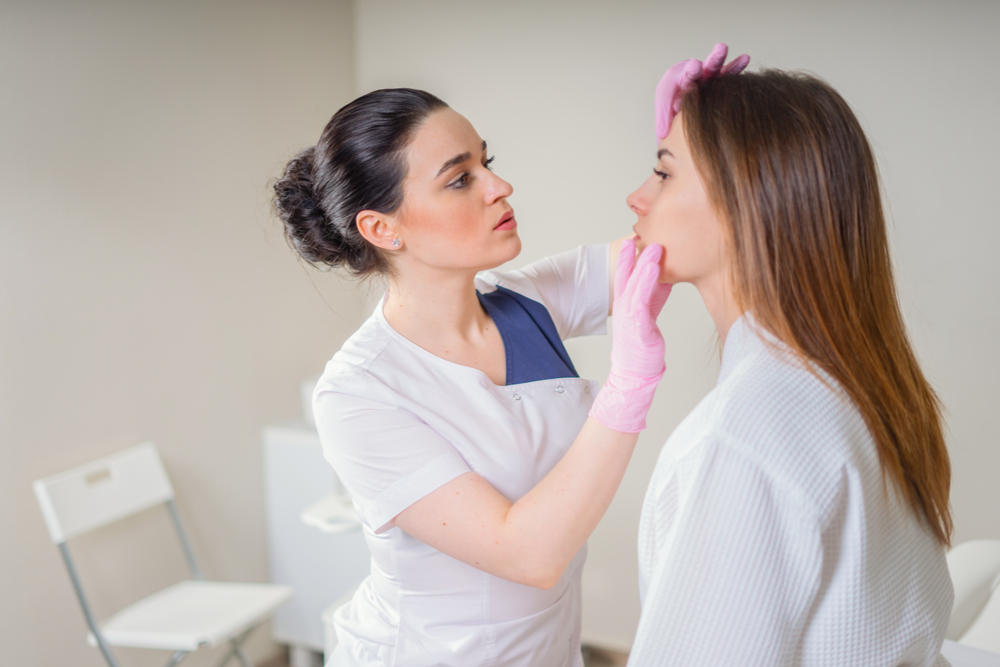 Skin care specialists are focused on improving chronic skin conditions such as rosacea, acne, and aging. They are trained in facial cleansing, dermabrasion, and certain procedures aimed at improving chronic skin conditions.
Facial Specialists
Facial specialists are aestheticians that have training for a variety of in-depth facial techniques. These techniques can include different cleansing and exfoliating methods, as well as the use of certain chemicals or machinery to achieve certain results.
Physician Assistant
Like the name suggests, a physician's assistant has specialized training to assist a physician. When working under a facial plastic surgeon, physician's assistants possess the necessary skills to offer a variety of aesthetic procedures such as: Botox, dermal fillers, laser treatments, and body contouring treatments. However, not every physician's assistant can provide these services, so you will want to be sure that your PA has the proper training to safely perform aesthetic procedures.
It's important to find one that is qualified to provide the treatments you are looking for. For example, injectable treatments need to be performed by a licensed medical physician, dentist, or physician's assistant with the relevant training.
Tips on Finding the Best Aesthetician
Here are some tips on how to find the best aesthetician in your area:
Look for a licensed aesthetician. This means that they have been trained and certified to provide beauty treatments. The training and certification requirements can vary based upon location. In order to receive effective treatments with a minimal risk of side effects, it is absolutely necessary to find a licensed aesthetician.
Ask your friends and family for recommendations. Chances are, someone you know has had a great experience with an aesthetician. This can be especially helpful if you and a friend or family member share a specific skin concern. However, keep in mind that everyone's skin is different, so what works for your friend or family member may not work the same way for you.
Research different aestheticians in your area using Google, Yelp, and social media. Be sure to read reviews and compare prices, if possible. You should also check out the before-and-after pictures on their website to get an idea about their work. This step can help you narrow down a few different practices to focus your research.
Schedule a consultation. Most aestheticians offer free consultations, so take advantage of this opportunity to ask questions and see if the aesthetician is a good fit for you. If you are unsure about what aesthetician to use, it can be helpful to schedule consultations with a few offices or practitioners. This will allow you to find the perfect aesthetician for your skincare needs.
What to Look For in an Aesthetician
Once you have narrowed down your search and have started to attend consultations, here are a few things to look for in an aesthetician:
Expertise. It is important to find an aesthetician who has experience and expertise in the treatments you are looking for. For example, if you are interested in injectable treatments, be sure to ask about their training and experience with these treatments.
Questions. A good aesthetician should ask you a variety of questions about your skin in order to determine the best treatments for your particular skin care needs. This ensures that you will receive a personalized treatment.
Friendly and knowledgeable staff. The staff at an aesthetician's office should be friendly and helpful. They should be able to answer your questions and help you choose the best treatments for your needs.
A comfortable environment. The office of an aesthetician should be clean, calming, and relaxing. You should feel comfortable sitting in the waiting room or treatment room. If you don't feel comfortable at the practice, it's likely not the right place for you.
Affordable prices. It's important to find an aesthetician who offers treatments at a price that you can afford. Don't be afraid to ask about pricing and packages before scheduling any treatments.
Aesthetician Red Flags
Just as there are things that you want to see in a good aesthetician, there are also a few things that you don't want to see. Proceed with caution if you find an aesthetician who has any of these red flags:
They seem distracted: if it seems like your aesthetician is not completely listening to you, then this increases the chances of them making a mistake that could negatively affect the results of your treatment. Instead, you should feel like your aesthetician is completely focused on you during the procedure.
They don't ask you questions: as mentioned above, asking questions is an effective way for your aesthetician to learn more about your skin in order to determine the best treatment. An aesthetician that doesn't ask questions will likely provide a one-size-fits-all treatment that may not benefit your skin. In some cases, these treatments can even make things worse.
They don't provide at-home skincare instructions: part of being a good aesthetician is helping you to take better care of your skin to maintain your treatment results. Without at home skincare instructions, your skin will likely return to the way it was before treatment.
In Conclusion
Finding the right aesthetician can be a daunting task, but it's worth taking the time to find someone who is qualified and provides great treatments. After all, taking the time to find the best aesthetician for your skin makes it more likely that you will experience dramatic, long-lasting results with minimal complications. By considering the things to look for in an aesthetician and avoiding red flags, you can increase your chances of finding the perfect aesthetician for all your skincare needs.